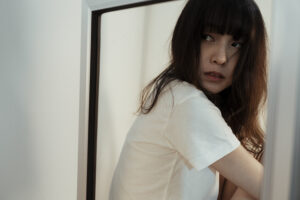 Your heroine needs to get out of debt fast. She sends a quick prayer to her ancestors for help not thinking that anything will come of it. A risky solution to get out of debt suddenly presents itself. Why does your heroine need to get out of debt fast? Who does she owe money to? What is the risky get out of debt solution and who is your hero? 
Maybe she bought a house with a boyfriend and needs to pay off her half of the house quickly to get away from him and the people he is connected with then someone asks her to deliver a package and they're willing to pay a lot of cash for the service. It's a perfect, but potentially dangerous solution. Or maybe she got caught hacking someone and they want compensation or they will go to the authorities. Someone else asks her to hack something and they will pay enough to get her out of trouble. 
Those are just quick ideas! Run with your idea. Get creative and have fun!